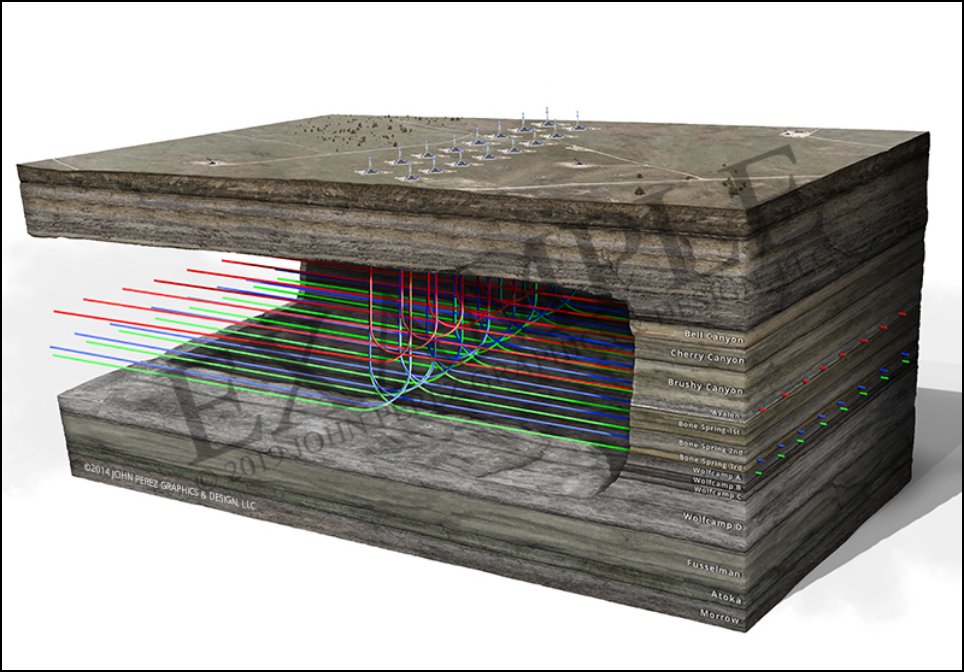 Texas produces 43% of the crude oil in the US, making it the nation's top producer. New Mexico ranks third. The Permian Basin is a large reason these two states are such important producers.
You know the Permian Basin is key for your business. Have you considered how visual resources like cutaway illustrations and infographics could benefit your projects in the region?
Learn more about how the right images can give you a competitive advantage.
The Permian Basin: A Unique Region
The Permian Basin in West Texas and southeastern New Mexico covers more than 75,000 square miles. It gets its name from the Permian Period of geologic time 299 million to 251 million years ago. The basin has one of the world's thickest deposits of rock from the Permian period.
The Permian Basin is one of the largest hydrocarbon-producing basins in the US and the world. Its complex sedimentary system includes three main subdivisions:
Delaware Basin
Central Basin Platform
Midland Basin
The geology of the Permian Basin contains multiple stacked plays. A stacked play lets a single well produce oil and natural gas from several layers of rock in different geological zones. This distinctive characteristic enables the Permian Basin to continue to be a top-producing region even as it matures.
Competition for Oil and Gas in the Permian Basin
Drilling in the Permian Basin began in 1920. Horizontal drilling, longer lateral wellbores, and hydraulic fracturing technology unlocked new production potential starting in 2011.
In September 2021, the Permian Basin produced over 44% of US oil. This figure was only 18.1% in 2013. The region continues to add rigs as production rebounds after a pandemic-induced decline in 2020.
You're focused on staying competitive in this important production region. If you're planning new wells, you want to get through the upstream pre-drilling phase as efficiently as possible. You want to minimize potential problems during drilling and production.
New players and legacy producers are looking to take advantage of the current surge in US demand for oil.
The Role of Visuals in Your Oil and Gas Production Strategy
One way to make your company more competitive and improve your bottom line is with the strategic use of visuals. Visual resources probably aren't the first thing you think of when planning or managing your oil and gas production.
However, they can have a powerful impact. They can help you with a variety of business needs like:
Attracting investors
Bringing in New Customers
Public and Government meetings
Courtroom presentations
Scientific studies have shown that the visual cortex influences how we make decisions.
People also tend to remember images more than text. The average person will only remember 10% of a story they heard in words. The same person will remember 65% if the story has a picture with it.
Attracting Investors
Visual resources can be an effective way to convince investors to fund your energy project. You need to demonstrate to potential funding partners the long-term viability of your oil or gas play. You also need to show your ability to successfully produce from it.
Your potential sources of capital may or may not have oil and gas experience. In either case, your pitch will be more compelling if investors can virtually see your site and how you plan to develop it.
Bringing in New Customers
Many of today's oil and gas customers have buying experiences and expectations that don't line up with suppliers' traditional sales models and channels. Customers want technology-enabled solutions and omnichannel consistency. They expect interactions to be simple and efficient.
Well-designed visuals can help you reach these potential customers. You can differentiate your company in the digital space.
Informing the Public and Government
Visual resources can be an effective way to inform the public about your oil and gas production activities. Disinformation and misunderstandings surrounding energy production are common. Accurate, compelling images help you tell the real story more convincingly.
Original images can help drive more traffic to your website. This helps you spread trustworthy information more widely.
Courtroom Presentations
No matter how conscientious you and your business are, disagreements arise that can result in legal proceedings. Making your case effectively and efficiently is critical. You need to convince the judge and jury that your version of events is correct.
Litigation images that are accurate, informative, and easy to understand often can make the difference between a favorable or unfavorable outcome.
Types of Visual Resources
Oil and gas graphics go far beyond static 2D images. John Perez Graphics has a range of stock and custom Permian Basin products to easily explain your operations. Cutaway illustrations and animations, maps, and downstream infographics are just a few of the options.
Cutaway Illustrations
Licensable cutaway (schematic) illustrations turn your technical data into compelling visuals. We can take the data from your geologist, geophysicist, and engineer to create an eye-catching and easy-to-understand illustration. We design our onshore GEOART cutaway diagrams to show exactly what you need.
Every geologic feature and prospect is different. Your cutaway illustration should be too.
3D Animations
Our stock oil and gas animations are a convenient way to take your visuals to the next level. We also create custom 3D oil and gas modeling animations that bring your prospect, tool or technology to life.
They can make your presentation jump off the screen. They're also a creative way to add educational and compelling content to your website.
Maps
Our oil and gas maps have all of your essential information with no distractions. We design a variety of products including locator maps, regional field maps, area of operations maps, and production maps.
Our maps can provide a wider regional picture or a zoomed-in, site-specific map. Your audience can easily see the significance of your location within the Permian Basin.
Infographics
Infographics use images and minimal text to visually represent information. They make complex processes easy to understand. Infographics are an effective storytelling device for contexts like your website, newsletters or brochures, and social media.
You can choose products like our upstream, midstream, and downstream infographic, or we'll work with you to design a custom image.
Adding Easy to Understand Visual Resources to Your Portfolio
The team at John Perez Graphics has decades of experience in the oil, gas, and mining industries. We design dynamic visuals with ultra-high accuracy that tell your audience they can trust what you're saying.
You're committed to the success of your project in the Permian Basin. We will be too.
Contact us today and put our creative talent to work for you.