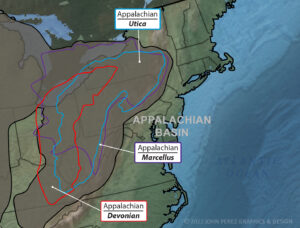 The Appalachian Basin is a vast expanse that extends from upstate New York to central Alabama. It is home to more than 40,000 feet of stratified rock. Natural gas extraction continues to increase and is now over 32 billion cubic feet per day.
If you work in the oil and gas industry, you know how complex the processes of exploration, development, drilling, extraction, and production are. Condensing this information into a consumable form for clients can be even more complicated. But it is an important part of the business.
That is where oil and gas illustrations come in. They can be a vital tool to engaging clients and ensuring that your team is on the same page.
The information below will detail the geographic layout of the Appalachian Basin, as well as the nuances of drilling there. It also provides some insights into how oil and gas graphics can benefit your business.
Appalachian Basin Natural Gas Plays
The Appalachian Basin stretches across parts of Alabama, Kentucky, Maryland, New York, Ohio, Pennsylvania, Tennessee, Virginia, and West Virginia. Natural gas exploration is prolific in this region. The fuel lives subsurface in porous spaces of the shale, as well as within organic materials in sedimentary rock.
Most of the shale in this region is Middle-Devonian age, which means it is between 382,000 and 393,00 years old. It is black, low-density, and rich in organic material, which makes it ideal for energy production purposes. Until recently, the challenge has been extracting natural gas from the ground in an efficient manner.
The Appalachian Basin includes two major natural gas reserves: the Marcellus and Utica shale plays. Utica is the deepest, with an average vertical depth of approximately 8,000 feet. Marcellus is a little shallower with an average depth of between 6,000 and 7,000 feet.
The geographic areas of the two regions overlap. The majority of the Utica shale is in New York, Ohio, and Pennsylvania, but touches parts of Maryland, New Jersey, Tennessee, and Virginia as well. The Marcellus shale is a more compressed area that is mostly Ohio and Pennsylvania, with a bit in New York state.
Utica Shale
The Utica shale contains about 38 trillion cubic feet of natural gas. It also has more than 940 million barrels of oil and 208 million barrels of natural gas liquids.
Historically, the Utica shale has been difficult to develop. That is due to the great vertical depth of the resources for most of its geographical area. It also has low permeability, which is not uncommon for the region.
Beginning in 2010, production in Ohio and western Pennsylvania has been particularly prolific. That is due to the concentration of natural gas and advances in horizontal drilling and hydraulic fracturing.
As the name suggests, horizontal drilling allows companies to access significantly more reserves than a conventional vertical well by turning the wellbore to a near horizontal inclination and drilling across the reservoir.
This makes for a more efficient process in general. It is especially useful for deeper wells.
Hydraulic fracturing, or "fracking," is a drilling method that uses water, sand, and chemicals to extract natural gas. The solution is shot at high pressure into cracks in geographic formations.
The method allows for greater extraction of oil and natural gas. It also makes less permeable reserves, such as the Utica shale play, a cost-effective endeavor.
Marcellus Shale
The Marcellus shale is the third largest and most active play in the country. It only ranks behind the Permian and Eagleford shale plays in western and southern Texas. That was not the case 20 years ago.
The challenge was that, although the Marcellus shale play contained a lot of natural gas, it spreads over a very large geographic area. This meant less concentration of recoverable natural gas in any given acre.
From 2005 to 2007, production increased, also due to the use of horizontal drilling and fracking processes. As of 2011, the U.S. Energy Information Administration estimated that the Marcellus shale contained about 410 trillion cubic feet of recoverable natural gas. By 2015, more than 36 percent of all natural gas produced in the United State came from this region.
Oil and Gas Graphics and Illustrations
Graphic design allows you to present complex information visually so that it is easier to understand. You can use technical illustrations to show geological formations, seismic data, or field development plans. You also can use these tools for internal applications, such as safety videos, reports, or the planning process.
You can use oil and gas cutaway illustrations to show the subsurface operations of complex drilling processes. These are great for presentations, brochures, and reports.
Oil and gas 3D animation can explain complicated extraction processes like horizontal drilling. They can help you show your clients the details of exploration, field development, and production methods.
Custom graphics also can make your reports, documents, or website look more professional and inviting to prospective clients. These also are great for pitch decks, videos or investor presentations or license any of our stock oil and gas educational animations or illustrations.
Find Oil and Gas Graphic Design for Your Business
Now that you have an idea of how graphic design can be used in oil and gas extraction in the Appalachian Basin, you can decide if it is right for your business. It could be the tool that gives you an edge in securing clients and ensuring your investors understand the important and complex work you are doing.
At John Perez Graphics and Design, we provide high-quality images to companies throughout the industry. We have worked with a myriad of museums, trade organizations, geoscience specialists, universities, and law firms in the middle of litigation. Reach out to us today for pricing on graphics, 3D animation or oil and gas logo design.