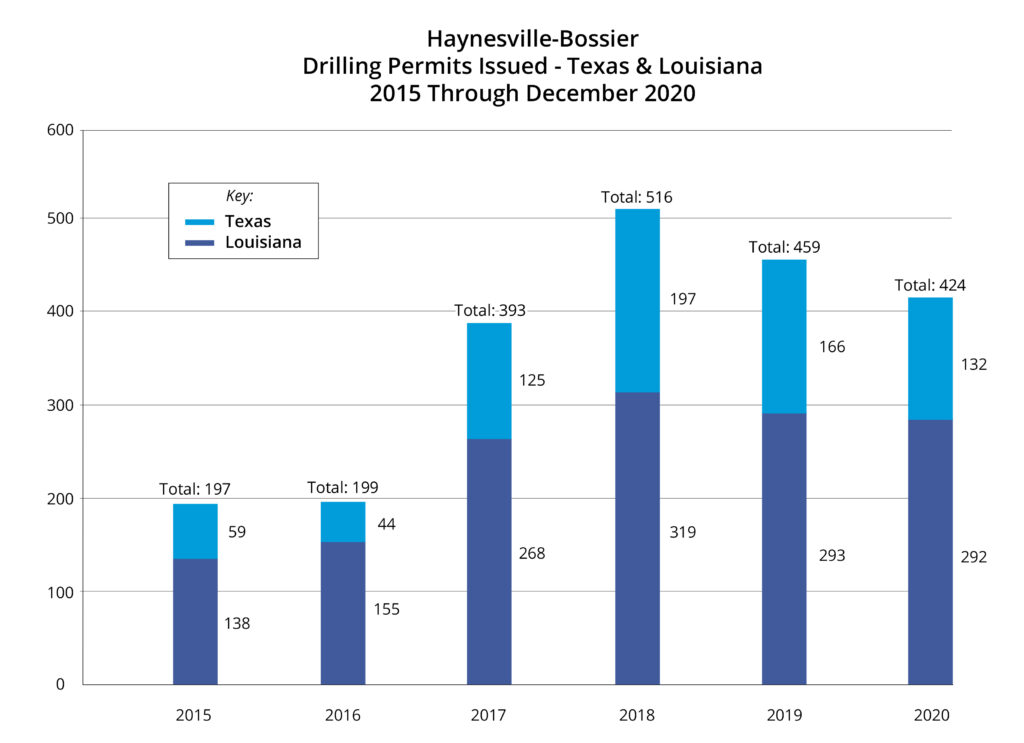 Comstock Resources, Inc. reported financial and operating results for the quarter and year ended December 31, 2020. Drilling Results – Comstock spent $483.6 million during 2020 for drilling and development activities in 2020. Comstock also spent $7.9 million on leasing activity. $476.9 million was spent to develop its Haynesville and Bossier shale properties, comprised of $436.1 million on drilling and completing wells and an additional $40.8 million on other development activity. Comstock drilled 55 (46.1 net) operated horizontal Haynesville shale wells during the year ended December 31, 2020, which had an average lateral length of 9,247 feet.
Comstock also participated in 16 (1.3 net) non-operated Haynesville shale wells in 2020. During the year ended December 31, 2020, Comstock turned 76 (43.7 net) Haynesville shale wells to sales and currently expects to turn 14 (13.0 net) operated wells to sales in the first quarter of 2021.
Since its last operational update, Comstock completed an additional 20 (17.7 net) Haynesville shale wells.  The average initial production rate of these wells was 24 MMcf per day and had an average completed lateral length of 9,288 feet.
Information Source:
https://www.shaleexperts.com/articles/Comstocks-2021-Budget-Up-Slightly-YOY-Q4Full-Year-2020-Results_999946616?utm_source=HaynesvilleShaleLandPg
ShaleTech: Haynesville-Bossier Shales – Controlled by Jerry Jones, the flamboyant owner of the National Football League (NFL) Dallas Cowboys, Comstock became a premier Haynesville operator with the $2.2-billion acquisition of pure play firm Covey Park Energy LLC in July 2019. Comstock now holds a 309,000-net-acre position in the northern Louisiana fairway.
Comstock's completed well costs are averaging less than $1,000/lateral ft but will likely increase as better prices justify longer laterals and greater completion intensity. Beginning in September, the company reverted from proppant loadings of 2,800 lb/ft to its previous 3,500-to-3,600 lb/ft stimulation strategy. "While it made sense to bring well costs down as low as we did, with weak gas prices this year, with prices closer to $3-plus now, it makes sense to invest in a little more profit, as we believe the wells will have a higher return," Allison said.
Owing largely to prices, offset frac activity, and widespread inland power outages resulting from Hurricane Laura in late August, Comstock shut-in 7% of third-quarter production.
Like Comstock, Goodrich Petroleum Corp. is exploiting higher prices to elevate proppant concentrations to as high as 4,100 lb/ft, with comparative analysis showing marked increases in recoveries, exceeding the company's 2.5 Bcf/1,000 ft curves. "Like the short (4,600-ft) laterals, our more recent operated 7,500-ft wells are outperforming materially to a composite estimate of approximately 2.8 Bcf/1,000 ft, due to higher proppant concentration and tighter cluster and frac interval spacing," President Rob Turnham said on Nov.8.
Following a late third-quarter ramp-up in completions on its comparably modest 24,000-net-acre leasehold, Goodrich expects production to exceed 150,000 Mcfed, entering the fourth quarter, compared to 125,000 Mcfed in the third quarter.
Indigo Natural Resources LLC is among the most active of the privately held operators, averaging four to six rigs and one to two frac spreads. For the year, the company plans to turn 52 wells in line, followed by 10 new producers in the first quarter of 2021, says Sr. VP of Finance and Investor Relations Emily Newport. Indigo will operate five to six rigs and no less than one dedicated frac crew next year on the 435,000 net acres under control.
Fellow private operator Vine Oil & Gas LP. is operating three rigs and one companion frac spread, but is still formulating the 2021 program, which will be presented to stakeholders in February, says Investor Relations Director David Erdman.
Vine controls 188,000 net acres in northwestern Louisiana, where along with the Haynesville, the once-bypassed mid-Bossier zone has emerged as a primary target. Some 500 ft shallower and with associated lower temperatures, Vine's mid-Bossier wells are trending drainages as high as 2.5 Bcf/1,000 ft, and at completed well costs of $2.75 million for 7,500-ft laterals, they deliver from 50% to 60% return rates.
Meanwhile, for self-described contrarian Kimbell Royalty Partners LP, it's "I told you so" time, as a once-derided $445-million investment harvests the dividends of a projected 50% increase in gas prices over the next year. With the 2018 acquisition of Haymaker Minerals & Royalties, LLC, the mineral and royalty company now holds non-operating interests in roughly 786,400 gross (7,700 net) Haynesville acres.
"We were aggressive on gas and everybody hated it, " CEO Robert Ravnaas said. "We are very excited to see the forecasted improvement in natural gas prices, both in the fourth quarter of 2020 and full-year 2021, based on the futures curve."
Ravnaas said others are taking notice of the improving market. "We have seen a pickup in competition on the gas side that didn't exist, even six to 12 months ago, but that doesn't concern us or impede our ability to successfully execute our M&A strategy," he said. "We like to be contrarian. So, we're not going to overpay for gas assets in this environment. We're going to look at them, but we're not going to overpay.
Information Source:
https://www.worldoil.com/magazine/2020/december-2020/features/shaletech-haynesville-bossier-shales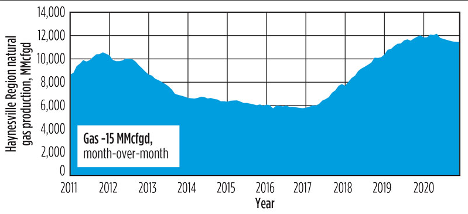 Source: U.S. Energy Information Administration (EIA)