Schematic No. M15
Permian Basin Regional Schematic
This product is licensable.
Permian Basin Regional Schematic
The Permian Basin Regional Schematic was created by John Perez Graphics & Design, LLC.  It is a regional east-west cross-section of the Permian Basin covering the Delaware Basin, Central Uplift and Midland Basin. Stratigraphic layers include but not limited to San Andreas, Bone Spring, Spraberry, Wolfcamp, Cisco, Strawn, Morrow, Mississippian, Simpson Group and Ellenburger. It includes the Texas counties of Andrews, Borden, Crane, Dawson, Ector, Gaines, Glasscock, Howard, Loving, Martin, Midland, Pecos, Reeves, Terrell, Upton, Ward, and Winkler. Named for the Permian Period, the basin dates back 60 to 299 million years ago in geologic time. There are many differences in stratigraphic nomenclature across the greater Permian Basin. 100″ x 34″ @ 300 DPI.

Shale Deposition Oil Gas Schematic Illustrations – Part 2
Shale Deposition Oil Gas Schematic Illustrations – Part 2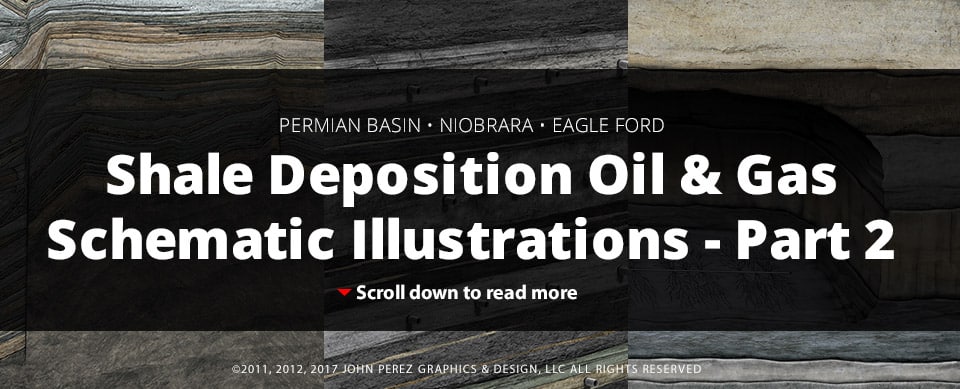 ---
Unconventional oil and gas extraction from shale formations has increased across the United States thanks to engineering and scientific innovations in perfing, horizontal drilling and multistage fracing. Exploration and development in shale formations has set the drilling and production pace domestically and continues to expand internationally.
---
Shale Deposition Oil Gas Schematic Illustrations – Part 2
Shale formations were typically looked at as the source rock for hydrocarbons in formations that had higher permeability and porosity. Now, engineering and scientific innovations allow operators to access and channel through stacked layers of shale rock exposing the wellbore to thousands of feet of potential oil and gas reserves. These technologies have also had positive results for the environment. Multiple wells are often drilled from the same pad which means far less land and wildlife is impacted.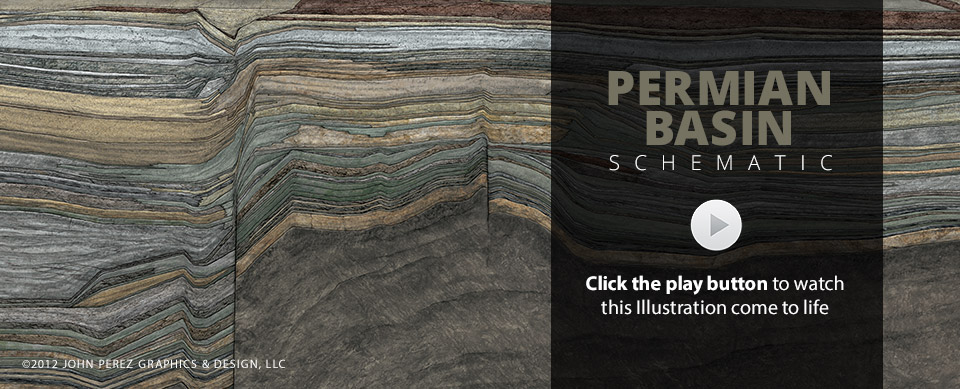 The Permian Basin Schematic Illustration (M15) – Available for purchase
Click here to see more Permian Oil Gas Illustration
---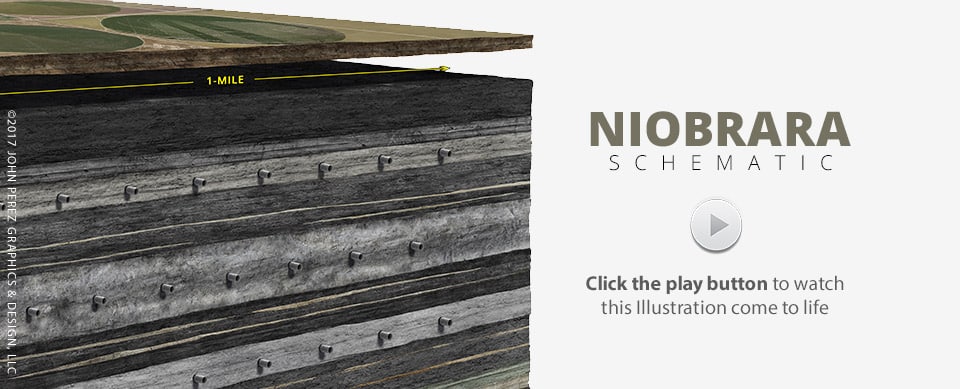 The Niobrara Schematic Illustration
---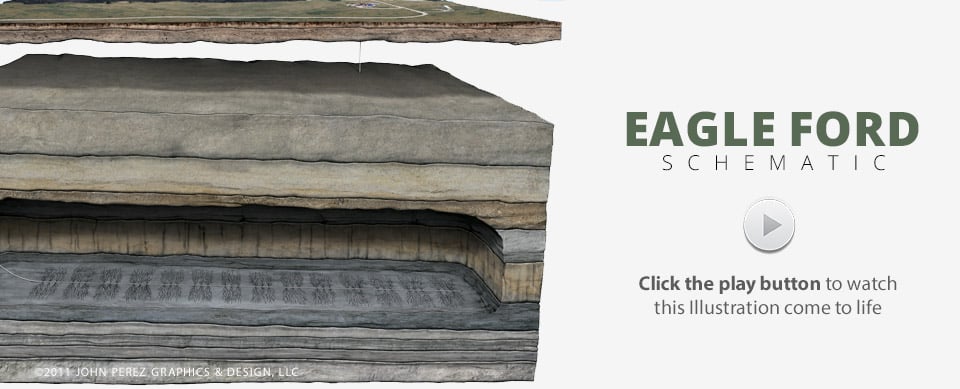 The Eagle Ford Schematic Illustration – Available for purchase