Oil and Gas Holiday Cards
It's that time of year already! Choose your favorite oil and gas holiday card art below to license in time to send personal or business holiday greetings. Can be customized with your inside message and logo…ready to print! Deliverable is a print pdf so that you may print as many as you wish. Card art is sized for a standard A8 envelope (not included).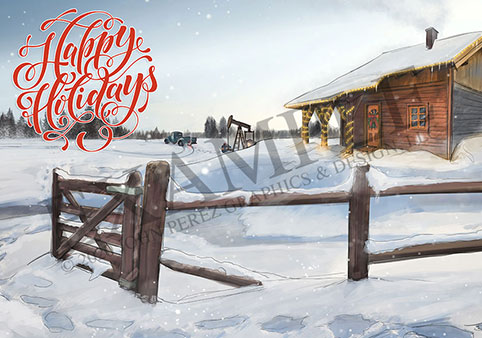 Christmas Cabin
A cold winter morning while a pumpjack gets maintenance out front of a lite up cabin.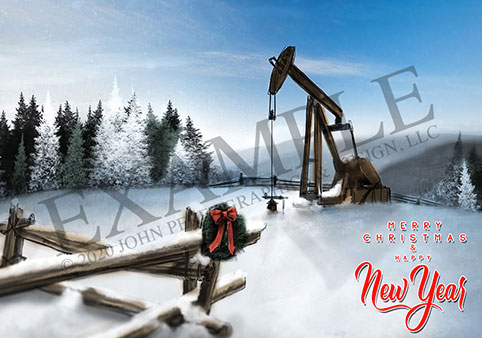 Working in the Cold
Pumpjack pumps away on a cold day, but the holidays are around the corner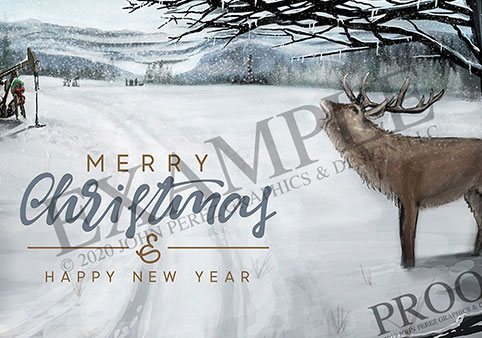 Winter Morning
Its cold here in the morning. Animals begin to wake, while the pumpjack pumps away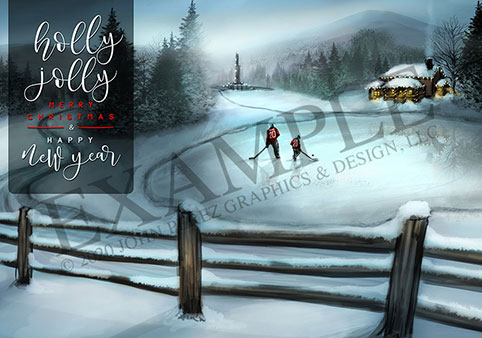 Warming up Before Work
Father and child warming up on the ice before he goes to work on the rig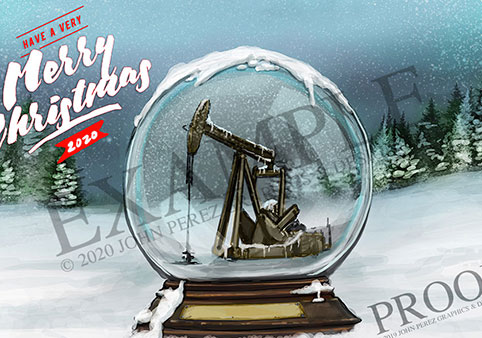 Pumpjack Snow Globe
When oil comes from the pump jack…it's almost like Christmas magic.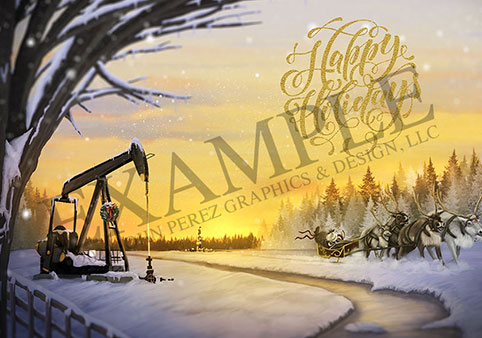 Evening Sleigh Ride
Santa dropping off goodies to all the good little oil boys and oil girls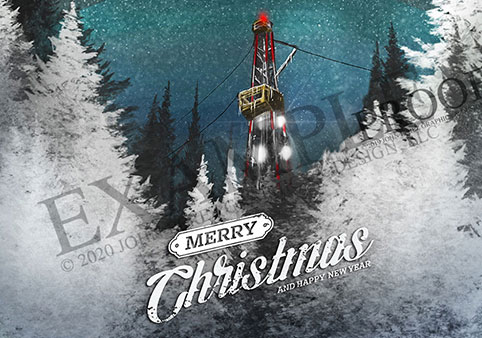 Cold Night Rig
Working on a rig in the cold before Christmas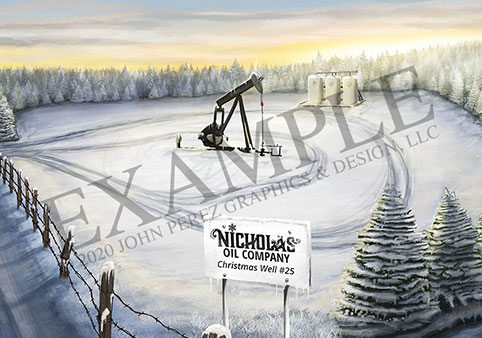 Christmas Pumpjack
Santa uses oil and gas too…to keep the lights on at the North Pole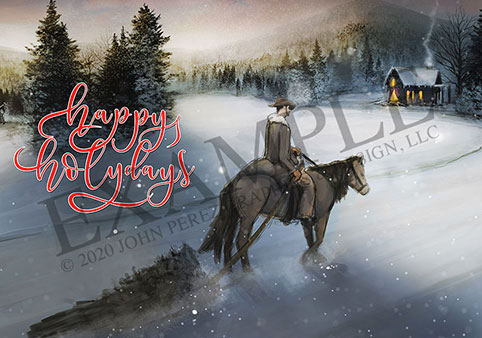 Christmas is Coming
Man riding his horse home with a Christmas Tree and pumjack pumping in the cold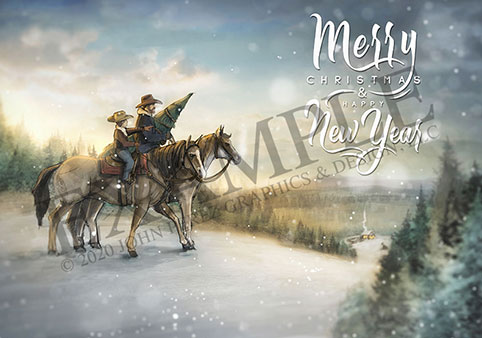 Almost Home
A father and son making their way home for Christmas, while the pump jack is working at home.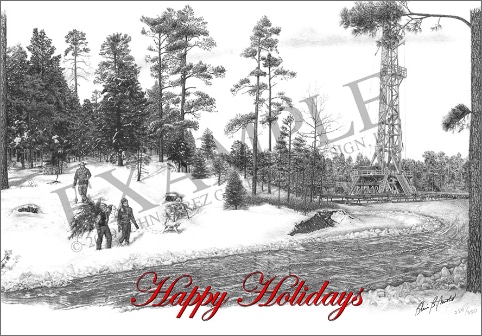 The Christmas Tree
Beautiful scene of harvesting the family Christmas tree hand drawn by my late friend, master artist, Blair Arnold.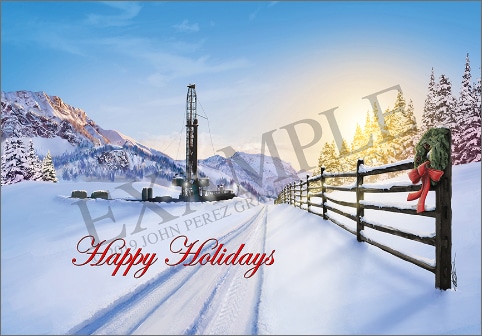 Holiday Rig at Sunset
This oil and gas rig is quiet on Christmas as the sun sets on a snowy mountain location.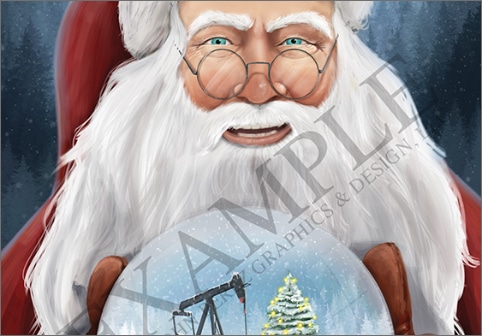 Magic Pumpjack
Santa knows what every good oil and gas company wants for Christmas!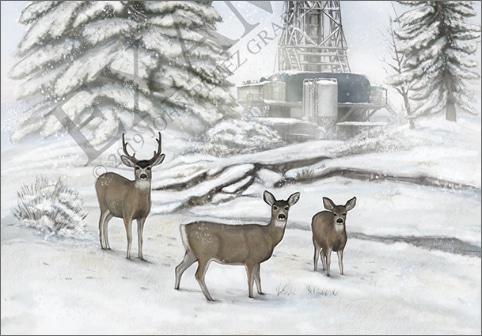 Winter Rig
Small herd of deer keep watch on snowy oil and gas rig location.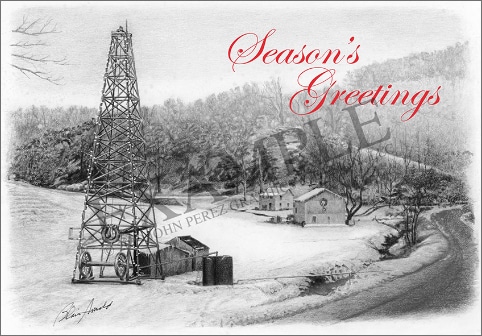 Home for the Holidays
Master artist Blair Arnold's recreation of an old fashioned homestead. Your recipients will marvel at the detail of his work.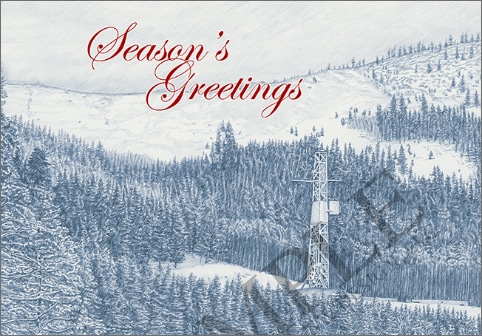 Cold Morning Rig
A oil rig sits high atop a winter mountainside amidst a stand of evergreens.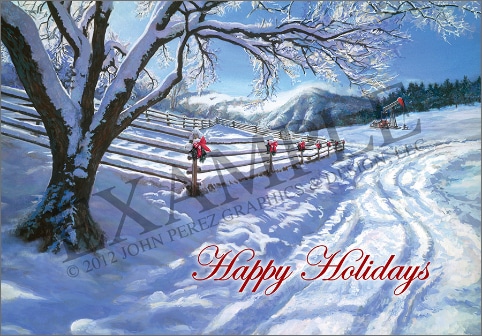 Snowy Fence Pumpjack
A clear, crisp morning after a snowfall. The country road leads to the distant pumpjack.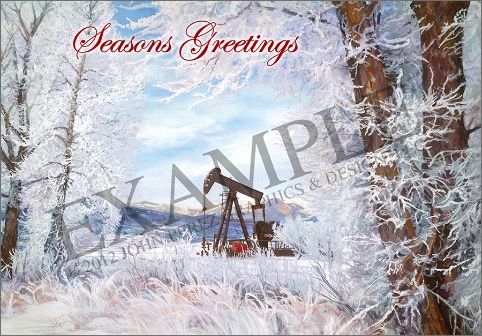 Cold Winter Pumpjack
An icy winter walk reveals a pumpjack in the clearing just past the fence line.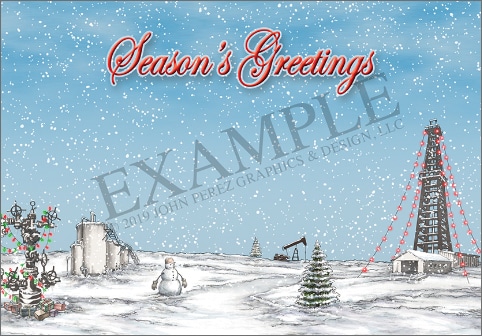 Holiday Wellsite
A whimsical holiday well location with all the trimmings …rig, pumpjack, Christmas tree, lights and all!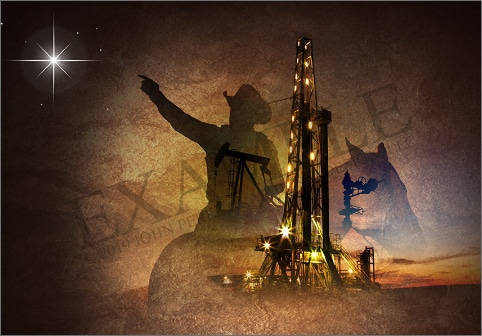 Christmas Star
An oilfield rancher points to the Christmas star in the nighttime sky.