Have you ever wanted to see what an asteroid would do if it hit the earth? This Asteroid Impact Crater Oil Gas Illustration will help visualize that!
This Asteroid Impact Crater Oil Gas Illustration gave us the opportunity to extend our creative thinking. Here at John Perez Graphics, we get to be a part of exciting projects and create the visuals people will see and learn from for years to come. Specializing in oil gas graphics we strive to be the best, we definitely get to see a variety of projects (both geology and technology) come through our shop: salt domes, hydrocarbon traps, horsts, faults, advancements in directional drilling, horizontal drilling, fracing and more! So, we were excited to get to illustrate something different for the oil and gas industry, once again.
The illustration created below shows us the footprint an asteroid left 100 million years ago. When you look at this illustration, imagine the speed at which this massive asteroid was traveling and the impact it made. Now, do you have that in your mind? Take a look at this animation… is this is what you envisioned? Pretty amazing and devastating, right? Our goal here at John Perez Graphics and Design is to help bring geoscience and technology to life! Think of us as your goto creative specialists for all your energy industry communication needs. We combine cartographical training, artistic skills, illustration, animation, 3D and oil gas experience to create one of a kind museum quality oil gas illustrations. So, if this illustration or any of our illustrations help bring out the geologist in you, then our job is complete!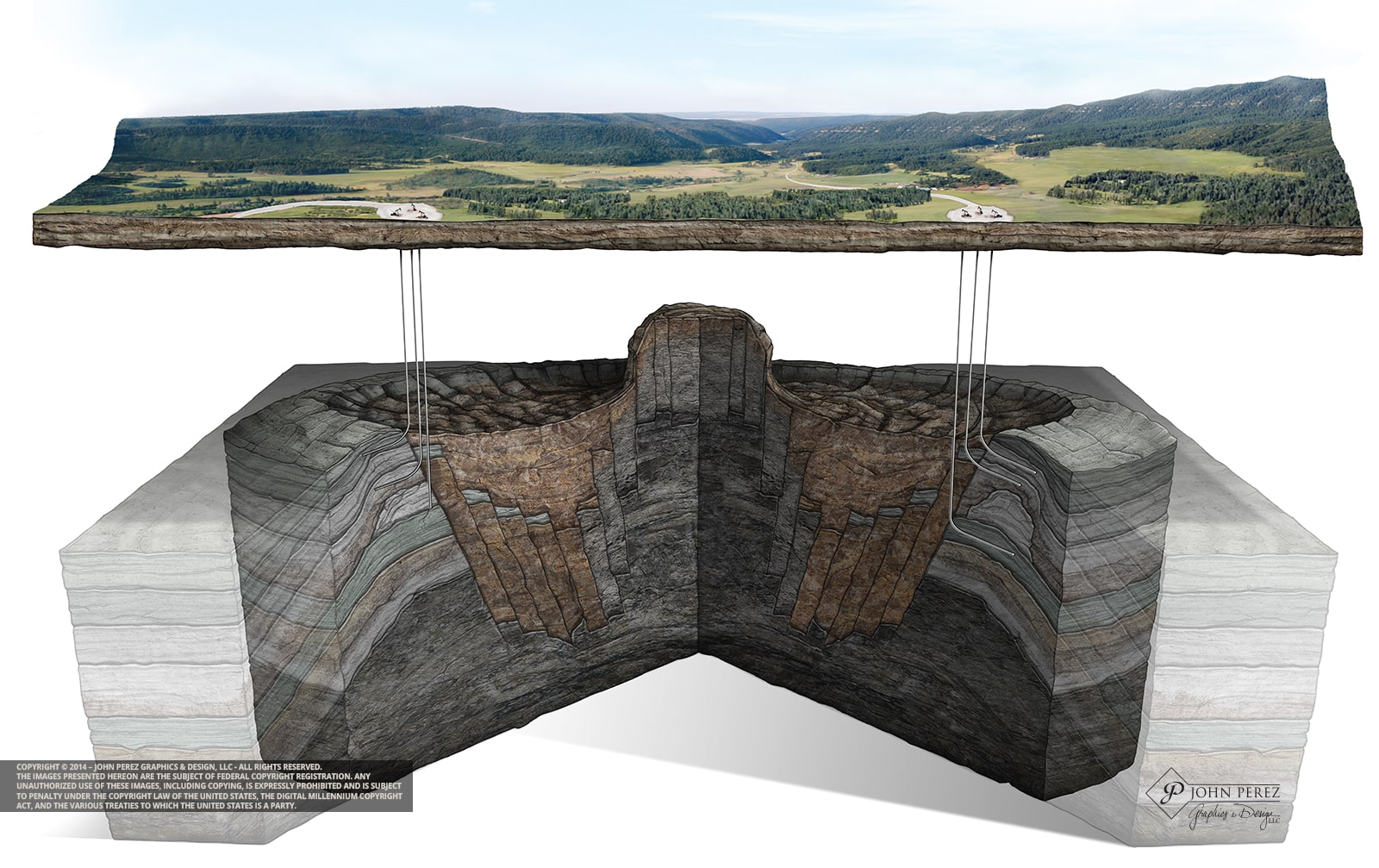 Approximately 3500' deep Impact Crater created by an Asteroid ~100 million years ago.
---
Want see more of our Oil Gas Illustrations? Click Here!
Want to see more of our Oil Gas Animations? Click Here!
---
Other news you might have missed!