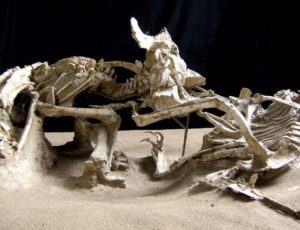 (Image: David Clark/Dinosaurs Alive/IMAX Film/Giant Screen Films)
Dinosaur Fight Club – Fossil Friday
These unique fossils were discovered in the Gobi desert in 1971 but are about 74 million years old. The fossils display a fight between a Velociraptor and a Protoceratops (a bore-sized animal for reference).
Thanks to the publishing of New Scientist, we learn that this was no ordinary fight of predator versus prey. You can see the Velociraptor has their foot at the neck of the Protoceratops but with a keen eye, you can see the Protoceratops was fighting back. The Protocertops seems to have gotten a hold of their predator's arm and was able to bite down on it prior to being attacked; therefore breaking it in the process. Dr. Mark Norell of the American Museum of Natural History has "no doubt" that "these animals were fighting."
Unfortunately, there was no true winner out of this fight because they seemed to have died before one of the two was victorious. New Scientist believed "one possibility is that a sand dune collapsed on them while they were still fighting" in Mongolia. Another possibility would be the Protoceratops died from the neck injury; causing the Velociraptor to be trapped underneath it, thus dying after the fact. Kenneth Carpenter of Utah State University suggested "when the predator eventually died, too, a sandstorm covered both bodies."
We'll never know the true reason of how the creatures became fossilized this way but at least we know they literally fought for their lives to the very end.