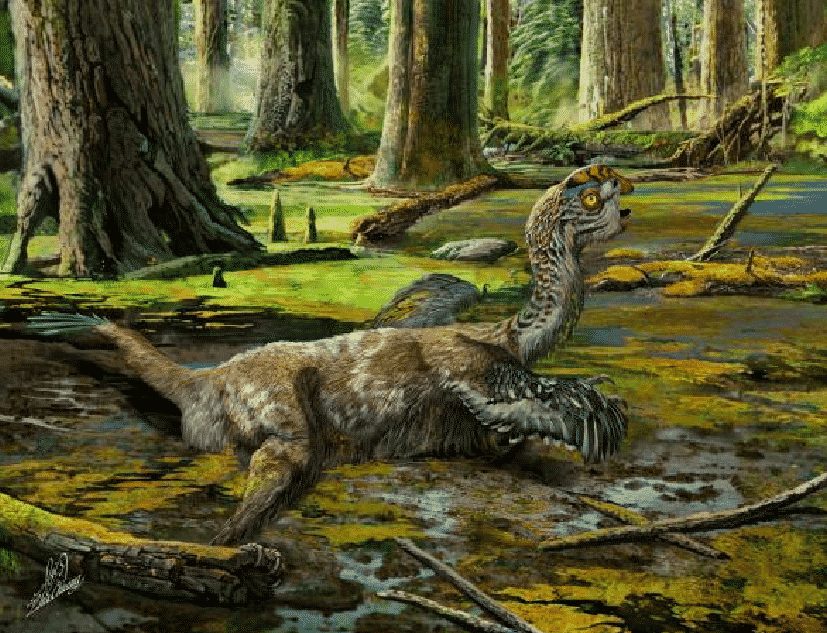 It's Friday, so it's probably a good time to leave aside the varieties of apocalyptic rhetoric we've heard so much of this week. How about a different apocalyptic era, a few million years ago?
Well, a remarkably well-preserved fossilized skeleton has recently been unearthed that hearkens back to that very time. A construction project for a school in China inadvertently discovered this skeleton when a dynamite blast revealed some of the backend of the dinosaur. The fossil represents a new species which scientists have dubbed Tongtianlong limosus, or (wait for it): "muddy dragon on the road to heaven." This flamboyant moniker comes from the fact that the dinosaur seems to have died after falling into a mud hole from which it could not escape. Thus its bones have been preserved quite well in the mud later turned to rock.
To add to the poignancy, scientists estimate that this muddy-dragon-on-the-road-to-heaven was only a few steps ahead of all his dinosaur brethren, as the fossil dates from approximately 66 million years ago, just before the cataclysmic meteor carved out the Gulf of Mexico. As Steve Brusatte, of the University of Edinburgh's School of Geosciences, said: "dinosaurs were still doing well at this time, still making new species, still dominating ecosystems." Famous last words, those: "dinosaurs were still doing well at this time…"
Until, of course, they weren't.
For science, such a well-preserved skeleton from the eve of the great extinction will provide important insights into the final chapter of the Mesozoic period. The Tongtianlong limosus is, in fact, one of the most bird-like dinosaurs found to date, and will give clues into the emergence of beaks.
But for us, it is perhaps fitting, both in light of election week and Veterans day, to consider the "muddy-dragon-on-the-road-to-heaven" as a metaphor for our own fragility and the preciousness of life—to remember that the things we love can be taken in an instant. Love them and thank them today.