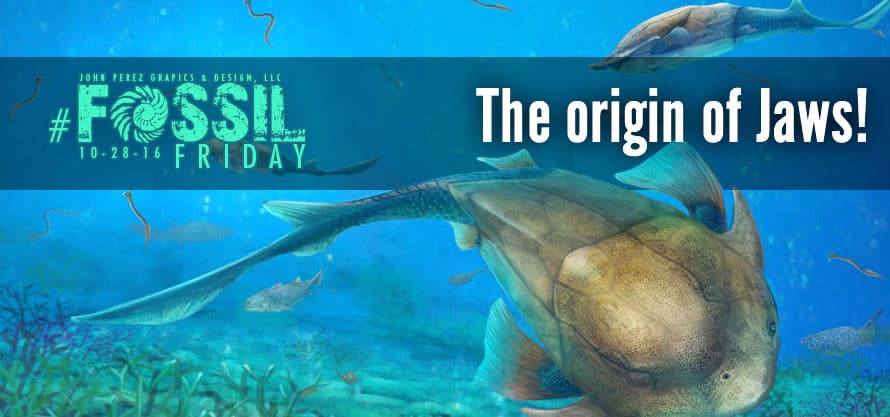 Okay, We don't mean like the *movie* Jaws. However, a recent groundbreaking discovery does have everything to do with sharks—and squirrels and lions and rabbits and every other mandibled vertebrate (which is all of them).
Because one thing that all T-rex's and velociraptors and insane clown chimpanzees and Hannibal Lecters have in common is a set of jaws. That's right. And Jaws the movie wouldn't have been nearly as frightening if the shark was just a big long fish with jello hole opening and no teeth (okay, that sounds pretty freaky too).
The adaptation of a jaw was long thought to come from bony fish about 400 million years ago. There were other, so-called "jawless" fish that just had simple, brutal looking apertures that resembled "sheet metal cutters" (yikes). These fish, called placoderms, were once thought to be a side-show cul-de-sac in the fish story. They looked like little armored dolphins, about the length of a tissue box. However, a fossil discovery recently published in Science has brought forth a new, older species of placoderm with the classic three-boned jaw structure that we share with all other vertebrates. This suggests that the new species is, in fact, older than the bony fish that were thought to be the first bearers of modern jaws. (Read a thorough overview of the discovery in Science News, here, or the original article at the link above.)
So when you're trailing behind your kids trick-or-treating this weekend, and you see all those needle-teethed ghouls and goblins, the Ken Bones and the odd Superbowl Shark, remember: none of these costumes would have been possible without the lowly placoderm.
Or as one scientist put it: "We are all fundamentally placoderm."