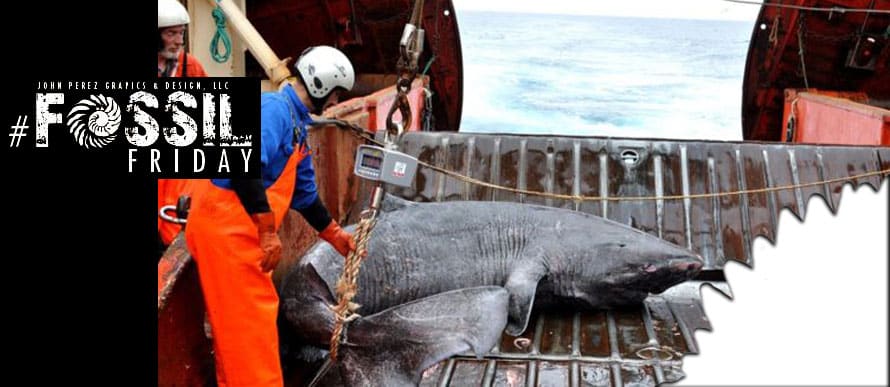 Scientists have recently confirmed in a paper published in Science that the Greenland shark is the longest-lived vertebrate of which we are aware. In fact, with a possible estimated lifespan of 400 years (and a theoretical range of 272-512) the slow-going shark could even give invertebrates a run for their money. Right now, the 507-year-old clam named "Ming" holds the distinction. (One wonders who named Ming, anyway? Was Ming a baby? Maybe that's not his real name.)
The team of researchers who have confirmed the Greenland shark's age say that the shark grows about a centimeter a year. Perhaps most startlingly, they surmise that the species reaches sexual maturity at about 150 years old! That's a loooong time of swimming around waiting to grow up. Why are we only now learning about the ages of these sharks? Well, unlike, say, an ancient redwood that's fallen, there are no visible tree-rings on a shark. However, for some sharks and fish, there are actually bones in the ear or along the spine that do in fact add layers year after year. Thus when a shark accidentally dies in a fishing net, the body can be examined to determine age.
However, as lead author Julius Nielson explained to the BBC, ""But the Greenland shark is a very, very soft shark – it has no hard body parts where growth layers are deposited. So it was believed that the age could not be investigated."
This is where the creative science comes in. The team was able to locate, within the eye lens of the shark, inert proteins that would not undergo chemical change after having been synthesized into the body. Thus they can locate material in the shark's body that was developed when the shark was a pup, and then perform carbon dating on that material. Given this discovery, the team was able to produce its 272-512 estimate, with the actual age being very likely somewhere in the middle.
It's unbelievable to consider that the oldest of these great fish could have been swimming the oceans as early as 1505. Martin Luther was just nailing his theses to a door. Shakespeare's parents weren't born yet. Only a decade before, the "New World" had been reached by a European. The printing press was beginning to change the world. And a baby shark darted along the coast of Greenland.
Of course it wouldn't be till long after The Tempest had been published and several generations of short-lived human beings had come and gone that this shark would finally be ready to look sullenly at its parents, be a menace on the road, and bury itself in its iPhone.
(And we can only assume that it would be another hundred or so years before it got a job…)