Sometimes life throws circumstances at us that are too strange to believe, and all we can do is throw up our hands and say, "You can't make this stuff up!"
I'm talking, of course, about Qianzhousaurus, more commonly known as "Pinocchio Rex."
Yes, a) that's really its name and b) what did you think I was referring to?
Speaking of fact-checking, I think it's clear that this tyrannosaur wasn't trusted by his more stolid T-rex relatives. Over and over, his long nose gave him away. And as for his tiny, ineffectual hands—he never heard the end of it from the naysayers. To make up for it, P-Rex would stand at the podium with a big, toothy (very toothy) grin on its face.
Now, you might expect to see such an unexpectedly long snout on a water-dwelling fish eater. And other species, like Spinosaurus and Baryonyx, wielded their Jaws of Life for that very purpose. But P-rex's food has been demonstrated to be from the landward side of the Surf and Turf special.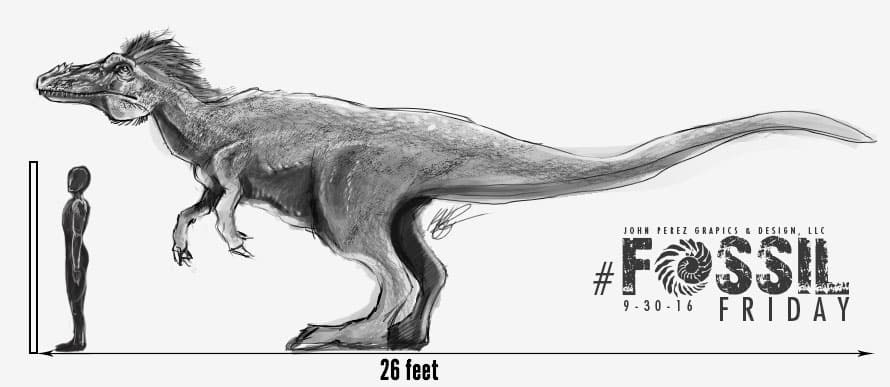 So why the unnecessarily long nose? As usual, paleontologists theorize hat the snout was a sexual selection trait. Yes, the males with the larger mandibles got the females. Small hands, big nose.
Huge nose, actually. Fabulous nose. Believe me.
Fittingly enough, Qianzhousaurus was only discovered in 2014. Before that point, it lay buried under millions of years of sediment. Just waiting. Waiting for the right moment in history to spring onto the world's stage and offer us an appropriately weird alternative to either a donkey or an elephant. The quintessential political mascot: Pinocchio Rex. 🙂
Until next time, happy #FossilFriday and remember: paleontology keeps you old at heart.