Making money in the oil and gas industry requires a staggering number of competencies.
In a down (and down, and down) market, you can't afford to keep a staff to handle every contingency. Todd Burdette of P2 has written about the cost-effectiveness of outsourcing niche skills, and in particular geologic mapping. He says that there are four primary difficulties that face an oil company regarding their data needs:
The inability to access property data on-demand
A backlog of mapping projects
Dated or incomplete data
Limited resources or no GIS department at all
He breaks down the ROI associated with overcoming each of these roadblocks in a helpful way.
As we view it, these factors can be distilled to one overarching dynamic: it comes down to escaping the paralyzation associated with having data but being unable to abstract business decisions from that data. You might have dozens of properties, for example, with differing expirations, proximities to competitors' wells, zoning issues, etc. When these or other data points are collated and visualized with a map, you can quickly see patterns and associations in the data, and quickly return that phone call and make the executive decision necessary to keep the machine greased and the business afloat.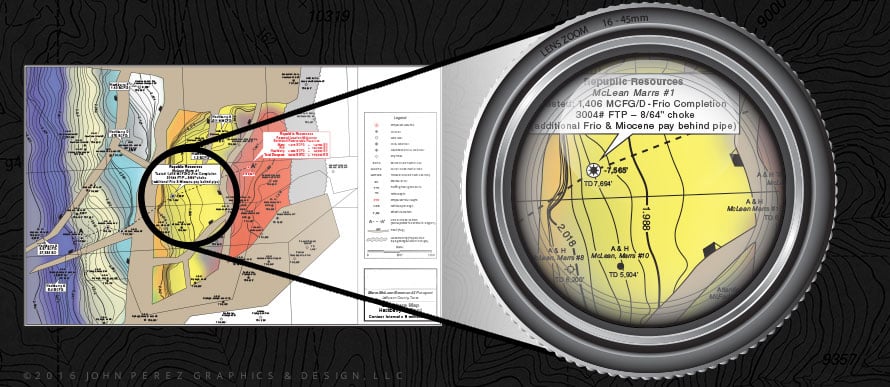 Mapping is just as useful in your external-facing activities. Litigation, sales, investor relations, regulatory hurdles—having a custom map to demonstrate your case makes all the difference.
But is it possible to have someone on your team designated to handle your mapping needs? It might feel more cost effective to use someone you already have in-house, but there will inevitably be a learning curve, and with competing priorities, you might find yourself running out of time and going into a meeting blind, so to speak. The revenue and employee time lost add up. To remain agile, it's often more cost effective to simply and outsource your geologic mapping.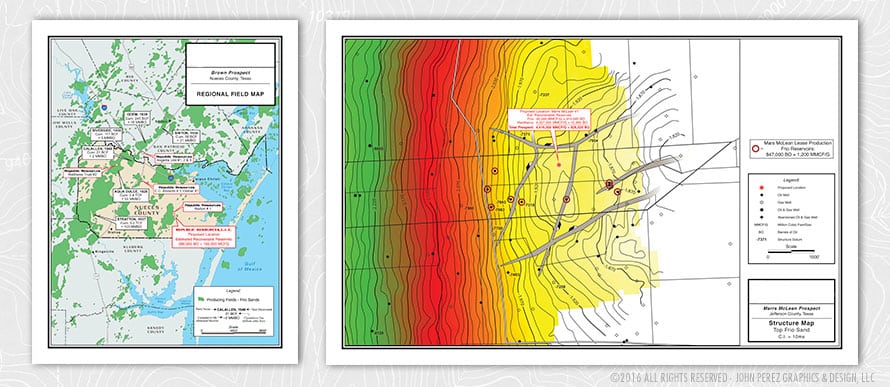 Of course this is something we do all the time at John Perez Graphics & Design. (Here's some of our mapping work.) And as opposed to a general-practitioner graphics agency, we focus exclusively on the oil and gas industry. What does this mean? It means you don't have to waste time explaining the salient features of your area, or telling us what your data means. We understand the geosciences and how to help your business. So if you have a backlog of mapping needs, or you just want to find out what we do and how we do it, send us a quick note here and we'll get right back to you.
Our goal is to help our colleagues ride out and even thrive in the downturn. Sometimes the answer is to toss the ballast overboard, get lean, and use specialists as needed.