We like to say that your "logo is your company's handshake."
[Quick edit for 12/13 repost: you can find our year-end logo special here.]
And just like a handshake, people are going to make first impressions based on your logo—impressions that are hard to change. Entrepreneur magazine has called a logo "synonymous with your identity." Their info-graphic breaks down the colors and fonts associated with various companies' logos, and what they say about those companies.
So how do you make sure your logo is one that represents you well? One that you're proud of?
Start by truly understanding your business. ZOG digital says that "defining your mission, image and voice in relation to your products and services is the first step in effective branding." At JPG&D, we help you walk through this process. We don't start by providing artwork. We start by listening to you talk about your company. What makes you who you are? What are some core values that might not be apparent on the surface? What is the "feel" that people should get when interacting with you?
From there, we get together as artists and brainstorm themes and fonts and colors and images. We send you several comps from which you select one that you feel great about. Only then do we take it all the way to final artwork.
At that point, knowing that your vision has guided our process all the way, you'll be more than proud to put your new logo on that Little League sponsorship banner. Or that investment cover letter. Or that international convention signage.
So what if you're not happy with your current logo? Is it too late to change? I know we said that first impressions are important, but sometimes it's important to reinvent yourself. We have folks come to us all the time unhappy with the logo that someone else made for them (see GIF below for example). And even a company as image-savvy as Apple started out with a clunky (albeit cool) logo: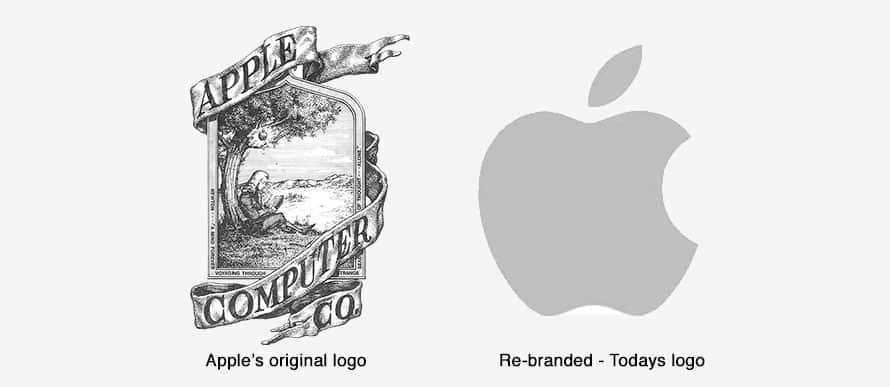 Newton under a tree and medieval scrolls don't exactly scream Apple's trademark minimalism! That's okay. They were agile enough to re-brand themselves in their first year with the now-iconic bitten apple.
There's a lot of folks out there who can whip up a logo for you. But if you're ready to re-invent yourself and put your best foot—or hand—forward… make sure you're. We'll listen first, and offer guidance second. You can look at lots of examples of our work here. Then feel free to drop us a message if you'd like to get going. It's easy.
Happy Wednesday, and wipe those palms!